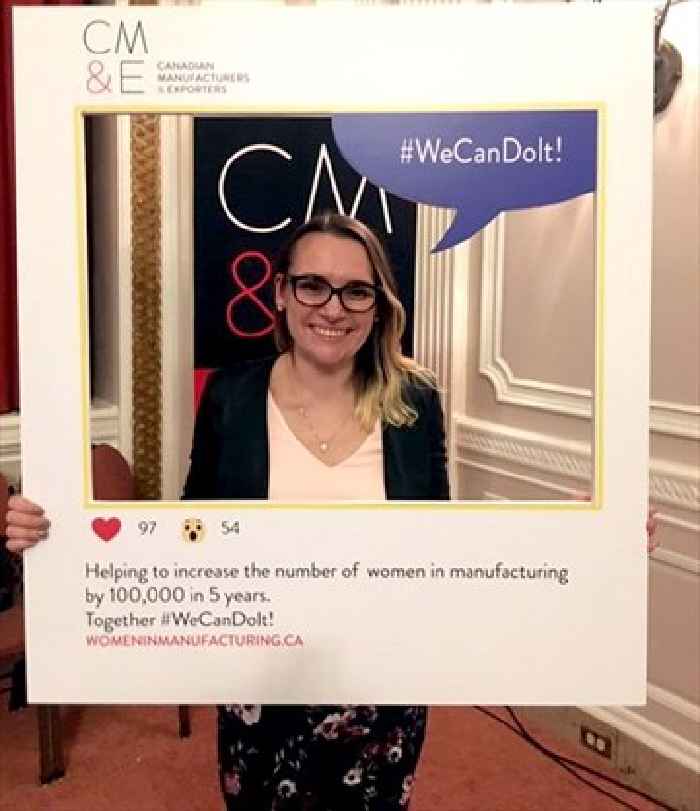 Tanya Spence is at home behind the workbench, tinkering, taking apart or fixing things. And she believes there could be many other women just like her.
Earlier this month the West Lincoln resident was one of four women to receive a $4,000 scholarship from Canadian Manufacturers and Exporters, in partnership with Fiera Foods. The scholarship aims to support women in manufacturing, an industry where only a little more than one quarter of workers are female.
Spence, who is currently studying electrical engineering at Mohawk College with the intent of getting a bachelor's degree from McMaster University, said she was raised to be someone who could take something apart and fix it.
"I was always the kid out in the garage," she said, adding her dad was a mechanic by trade and said his children "can't do something unless they know how to fix it."
For 10 years Spence worked as a dental assistant. One day she looked around and realized it just wasn't what she wanted to do with her life. Her husband worked at Dofasco, and that was the kind of career that appealed to Spence as well.
So, with a mortgage to pay and two kids to raise, Spence left her job and enrolled at Mohawk. It's a journey that makes her wonder if she was crazy to embark on, but something she hopes will one day lead to a job in a field like robotics and automation.
"I wonder sometimes when I sleep," she joked. Between her classes and reading, on-campus job and volunteer work, not to mention coaching baseball back home and all the things that go with raising a family, Spence's schedule can get a little crazy.
CM&E has a campaign called We Can Do It that seeks to encourage more women to get into manufacturing. The goal is to increase the number of women in the sector by 100,000 in five years. The scholarship is part of those efforts.
It's a campaign that Spence fully supports. She's the only female in her class, something she was told to expect. For the most part, she said her fellow students, predominantly guys in their late teens or early 20s, have been great, even though there's the odd cringeworthy comment she hears in the workshop. However, many of her classmates seem willing to learn, and will ask if a comment or remark is considered offensive.
Spence said so many companies in the manufacturing industry are desperately seeking workers, and it can be a great opportunity for women looking for work.
"It's such a rewarding field, both personally and financially," she said. "It's so good to see something you have done from start to finish."
And that's doubly so for those in the Hamilton-Niagara region, where the combination of great schools and a "hub of advanced manufacturing" exists, she said.
"Often women just don't look at that," she said.
Spence received the award at an event on Nov. 7. While the financial incentive definitely helped the family, she said the experience of travelling to Ottawa and meeting the other winners along with officials from across Canada's manufacturing industry was equally important.
It's also led to her being on a poster for International Women's Day that could end up in schools throughout Hamilton.
— by Luke Edwards
Fiera Foods is happy to support food manufacturers like Tanya Spence.
Read all about her scholarship here